Greetings, traveler, and welcome to the newest Chaos Theory feature, "Pick 'em or Kick 'em!" Featured below are some of Chaos Theory's favorite fashion findings, and our panel of four fierce fashionistas pick apart each glamour to determine if they'd "pick 'em or kick 'em" during their Heavensward journey!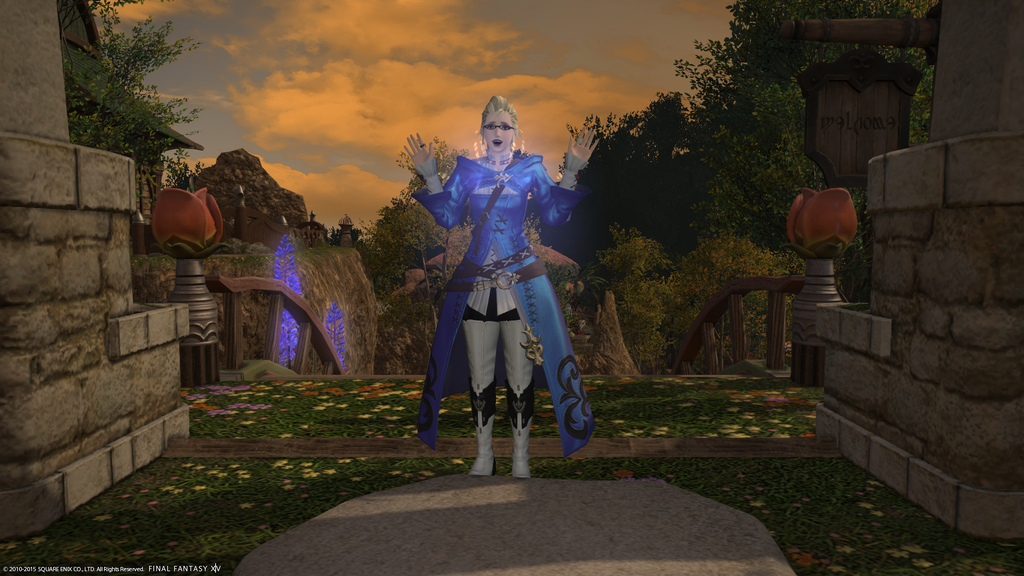 Gideon Highmourn: "Our first featured glamour is Elsa Froiland's hazy shade of winter! Now, I absolutely love Elsa's propensity for azure shades, and the pairing she's picked with the soft, white trimmed under fittings and structured, leather boot couldn't be more harmonious; it gives a perfect springboard for the vibrant trench-top to really shine! She's definitely joining me on my fabulous expedition through Ishgard. Pick 'em!"
Nyena Nosidam: "Hmm…I have to disagree with Gideon here. I would have preferred a sleeker boot. The Ironworks healer boots just aren't doing our ice queen's thighs justice. I'll concede that there aren't many dyeable leather boot options in the healer category. But still, I'd have to let this look go."
Ichiro Hayashi: "Elsa just needs to let..it…go… *two snaps around the world and back again*
This look says "I'm a naughty school teacher… I'm cold as ice but men watch out! Anyone wanna build a snowman?"
Cherry Phox: "I have to go with Gideon. The colors are comforting to the eyes. The color pairings make for the reassuring glow to stand out all the more with such sturdy choices. An extremely functional ensemble to say the least. Dexterous finger gloves for fine work and large boots for keeping out of even the murkiest of situations unscathed. All of this topped off with a lovely pair of glasses. A natural, cheerful glow to team up with. Pick em!"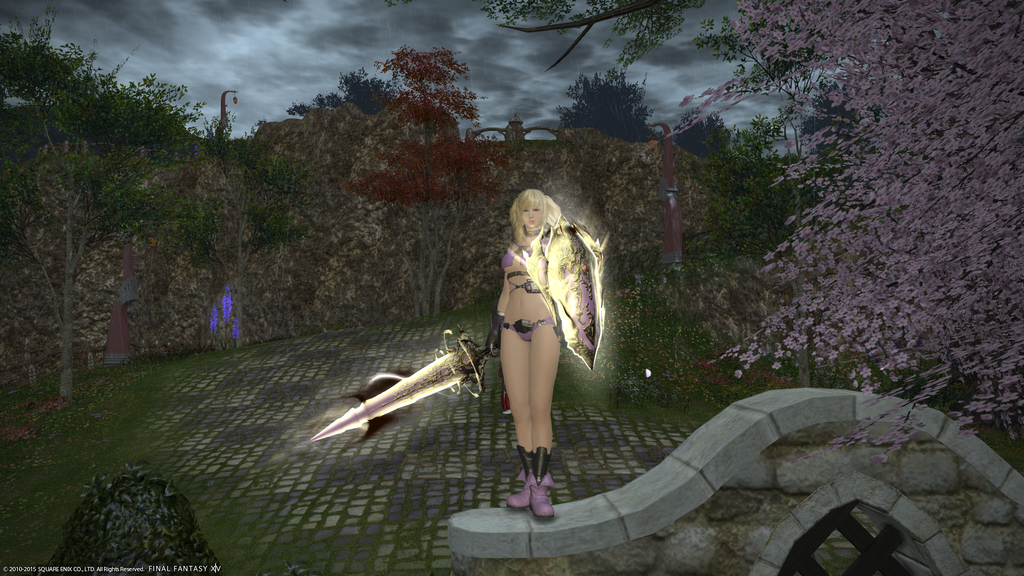 Nyena Nosidam: "Next up is our resident Barbie girl, Jenkin Stien. I think the best way to describe this look is go pink or go home. Or maybe go pink and smash all non pink things with your big pink shield? And then there's the whole WWF Barbie meets Xena Warrior Princess vibe. WTF? This look should totally not work and yet I find it oddly compelling. Apparently so does Jenkins since this is the base for all her glamours! I'm keeping it because this is a look you have to own and Jenkin owns the pink. Pick 'em."
Ichiro Hayashi: "Jenk's outfit has a barbie girl kind of feel…Life is fantastic! When you are plastic! Aces ten for making one of my most hated colors fashionable."
Cherry Phox: "Strong, sturdy, ready. All words that compliment our next model, Jenkin Stien. A bold, burning passion exuding confidence in every little piece. A short piece for modesty's sake leaving Stien's powerful legs and sculptured body to tell the tale of who not to mess with. Such a fine figure trimmed with rosy pinks laced in not only her clothing, but her weapons as well. A final, beautiful pigment for those she will crush in her confident wake. I can not fault it. It just oddly… works. Pick 'em"
Gideon Highmourn: "You're right, Cherry. It definitely works for Jenkin, however, it's gonna get pretty chilly in the Cloud Tops and Forelands; Jenkin is gonna need to cover up some more! I wonder, too, if there's a pink dye supplier pulling their hair out over being able to keep stock! Jenkin has probably run him dry on more than one occasion! Everything that can be said has already been said about this outfit, and if Jenkin is comfortable parading around in it, I'm not gonna fault her for it! Pick 'em!"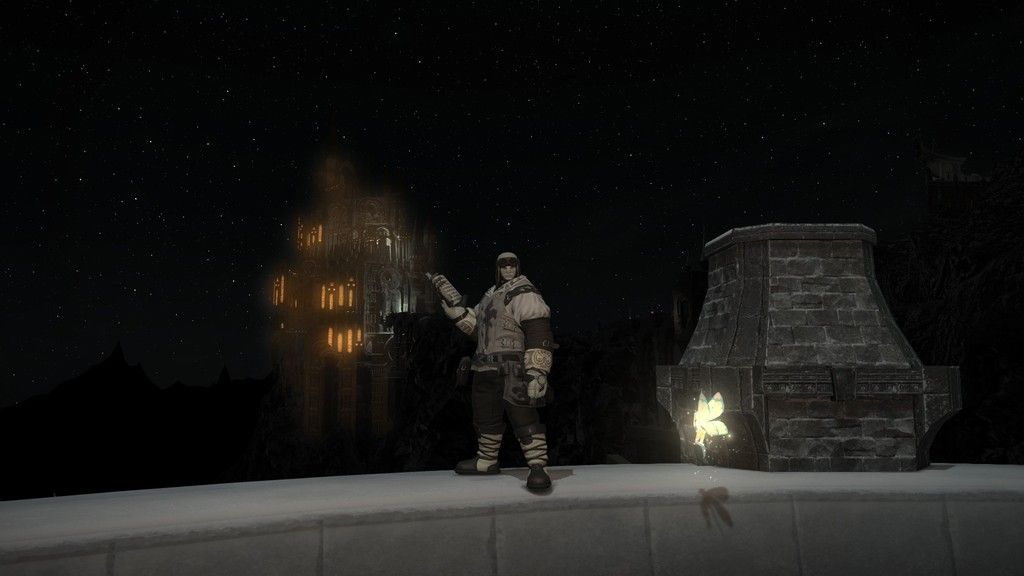 Cherry Phox: "With everything flashy, explosive, edgy, and just plain ridiculous, it is good to see Kharo holding the fort down for those that live in the land of practicality. Definitely the way to be when trekking through Coerthas. Rugged boots and thick pants for the cold weather. The same to be said for the upper body. No bright tones to be spotted and made all the more targetable and noticeable. A pair of goggles sporting over his head for eye protection that would blind any other unprepared adventurer. The small bit of skin showing on his hands I'm sure is done on purpose for the deft and dexterous work of casting spells from his Grimoire. Kharo at a glance will tell the tale of a man ready, prepared, and well planned to keep up a strong backbone in any party. I say Pick em!"
Gideon Highmourn: "Cherry, while I can appreciate the practicality of Kharo's raiment, I feel that it lacks a definitive flavor. All the individual elements are there for me — the goggled helm, matching strappy boots and gloves, and an amazing deconstructed top — but none of it makes my eyes dance with delight! Not to be a member of the bitter old lady brigade, but Kharo would simply fade into the snowy background, being dyed all white on top! And when it comes to exploring the snowy fields of Coerthas, I'd definitely forget Kharo's ensemble in the icy drifts behind me. No apologies. Kick 'em."
Nyena Nosidam: "I think Kharo looks like a teddy bear they might sell in the Welcome to Ishgard gift shop. You know the kind of place where you can buy shot glasses emblazoned with Nidhogg's eye and Midgarsormor pencil toppers. Is looking like a plushie from a tourist trap a good thing? I don't know. It's practical, practical and more practical. Can I give him points for Eos' ethereal beauty? No? OK, I'm gonna have to kick this look.
Ichiro Hayashi: poor Kharo is about as fashoinable as a snail in a salt ring. Just like my life… his outfit is only one color………………………………………….fabulous!"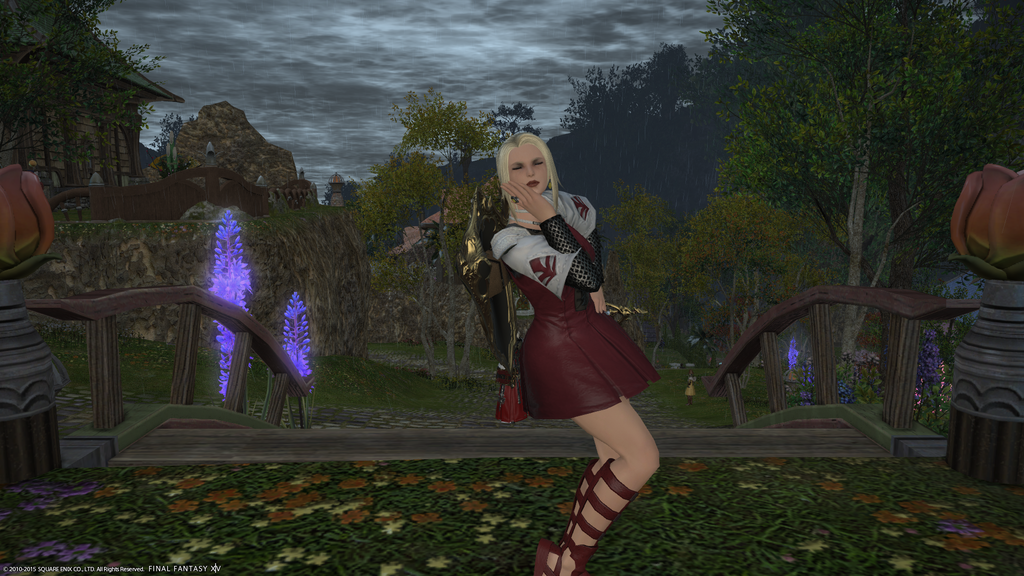 Ichiro Hayashi: "Ana has that "Oh! Did I do that?" look. She could be a star on Peach Mountain! OH-HOHOHOHOHO~~~~!!!! Da-Da-Dash off to the red carpet in this hot to trott ensemble."
Cherry Phox: "Sometimes one is just a sucker for nostalgia. I for one am driving right down that road right now. The Explorers Tabard is what some adventurers came dressed in after the time jump. Anastasia herself even posing for the camera, trying to look her very best in the time worn burgundy. All of it held together with smooth legs keeping her up and steady with a light pair of footwear."
Nyena Nosidam: "I like a feisty girl! The leather mini dress is hot hot hot! And I like that Ana opted for sandals instead of the overdone thigh high boots. The bleached blonde with black roots is just naughty enough. I like where Ana is going with this look! Pick please!"
Gideon Highmourn: "Oh, Ana, you slay me in this cute little number! You look like a seasoned explorer who's not afraid to look good while going it. First of all, I love the marsala red paired with the Nordic blonde pony tail; it works perfectly! The skirt is just the most flattering length to show off those Midlander legs, bronzed for the gods! And I am so elated to see a strappy gladiator flat to continue showcasing them — legs for DAYS! You might get a little chilly, but who cares; you look stunning in this ensemble! Pick 'em!"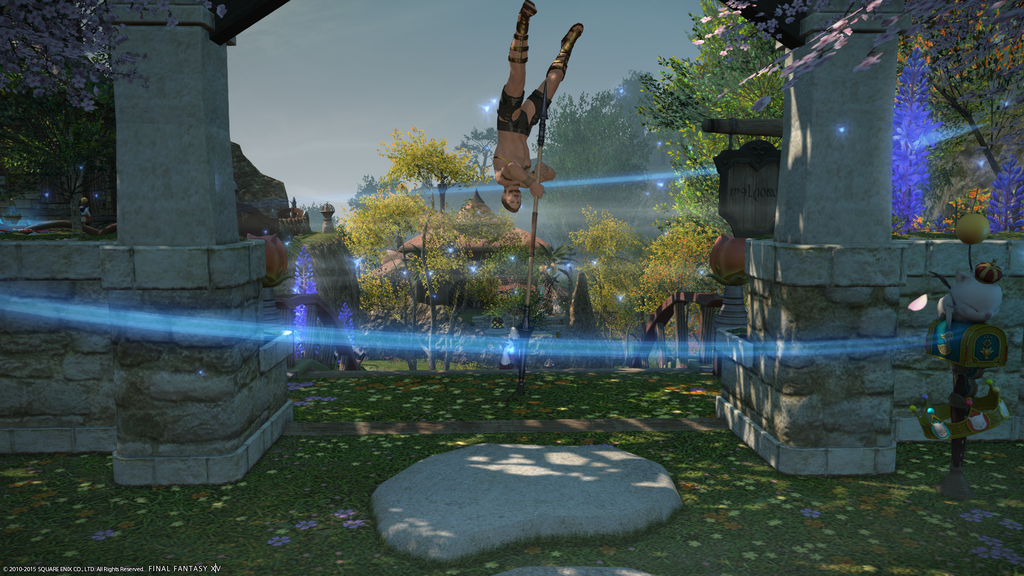 Gideon Highmourn: "Ah! Here we have Efren Cecht, sporting a gladiator fantasy outfit and showcasing his lancing skills! Now, I know it's going to be cold in the icy hinterlands of Ishgard, but what expeditionary team doesn't need a Dragoon to help keep an eye on the floor for you? Even better that the Dragoon is the one bringing the much-needed subligar to the table. Efren might get very very cold in this outfit, but that's not my problem! Pick 'em!"
Cherry Phox: "Bringing subligar back is always a plus in my book and agree one hundred percent with Gideon in that regard. That is where our common ground will end, unfortunately. Thick in the fray, soaring through the air, facing most attacks face first and testing if the ground can hold in the most dire of situations are what Dragoons are all about. The bravery Efren brings to bare so much with just his will and constitution alone is admirable but foolish in my opinion. Efren may be in a category of his own, but I will have to say to Kick 'em."
Ichiro Hayashi: "Effie has the look of a someone who woke up at 3 am and went to go get a cold pop and thought someone was BBQ-ing… this look is HOT! Who needs street corners when you carry around your own stripper pole… He loves to look at new angles if you get my drift.. *wink*"
Nyena Nosidam: "Subligars are at best a practical option for expeditions in hot climates with no bugs. There aren't many places that are warm and bug free, except maybe the desert and I should think the sand/subligar combo would be chafing. Anyway, I can't think of any place where subligars are appropriate that I can discuss in a family friendly newsletter. I like the gladiator sandals. And the show of athleticism is impressive but neither is enough to save this outfit. Kick please!"